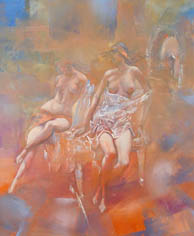 2004-08-31 23:20, by Julie Solheim-Roe

My darling star-root sister Letecia reminds me of my old epic poems and I dare say, 6 years later, in Avalon, an alchemical marriage that brought the deepest transcendental light of Soul, and the darkest despair of manic depression.. now changing forms... with a new business being birthed out of the entire energy of Love through the ages -- Aphrodite continues to shine on. and the Mysteries of this Ever Ever Apple Isle... are indeed, Hers. Can't believe I wrote this then, and am Knowing still, discovering Still, yet still still yet... exactly what This Means... That:


8/21/98 NEW MOON INTO SOUL-ECLIPSE

Wanderings.
Total neuroses.

I ponder Her Mystery
Again
from my place of Rest.

Continuances allowing
broader,
more
expansive
sighs
into the in-between
Spaces
of all
of my
Love.

Did you create this
absolute polarity
only for my
amusement,
in body -
you are the Muse,
She of all Design.

She, the peripheral, paradoxical
Question
Answer
of
All of my knowings.

He comes to me in a lessor
Form
recently -- or did I just
finally see
the Lessor
God --
my arrogance! --
this lessor one wanting to
be enfolded
and surrendered.

How can I explain
a Stallion
riding
a pleasure-fulled
Aphrodite wave?

The swan of my surrender:
a foaming white stallion
is chariots of Jade-ed
destiny,
stealing such moments
is old-world,
shame ridden
ecstasy;
suppressed sexuality.

- that's why it's not about
the sex.
- or lesser children
of an invisible
dilemma.

How can you know
what breathes
between Her
crushing
thighs,
but Fairy Power
not
about
to
wait for you
to come along with
Her
forest'd Merry Ones?

Ancients in Elemental
balance,
the Highlands dry out
in deserts
of
hallucinating
Jerusalem's.

These Codes of
Ra Power
are the portals
homeward
into
bizarre
imaginings
which we are All
from, that place
within
sound chambers,
2nd degree Shekinah Spaces.

Merkabahs spinning
still seems like the
one down the street
wearing a white turban
and manipulating chakrah orientation.

- the underplay of a
Tantric dance teacher
in reaction
to my Fire.

The container of Dark Aphrodite's
blaze
is the steeping
Reality
of Awful
Love,
so mighty it will
only absorb
red dwarf nebulas.

Witness my Temple Dance
to you
only for
that central Altar
of my Whore Body.

I am dancing out of
razor
edges
completing
cycles of underworlds
hidden
and heaven's trumped
return of Star glory.

As I write this Star-angels fly out of
Tatia's Green man eyes.
- this is my Fifth Sacred
Devotion.

All my preparation
is not for
a
Secret Wedding..

Black Madonna's can
destroy life
but not as a
martyred scapegoat
or Lillith's daughters.

Eve's restored Grail
alchemizes
the regeneration
of spinning tear drops
overlaid
with my bleeding womb.


Inner time beats Her
sacred Wells
copulating
with a King
so non-human
- it is another story altogether.

whilst we are setting the Players
upon the
throne of thorns
for a labyrinth
return
solar-ly, lunar-ly...

this IS Nuit, Isis
of
my Diamond Eye.
I.

Jeweled Rays of
Her delightful
twinkling
shooting memorization
into grid lines
and knowing monoliths.

I am calling my lineage
forth
only thru constant
dedication
that
awakens all
deceptions.

Love need not cut
nor burn
yet all-Power,
all-Potential
must be honed
with
the intensity
of my tiger instincts.

You say I am no
longer 'cutting edge' -
yes!
- star portals
must roll the same
stones on tombs for the
only
protection
that works:

CONTAINING INFINITY.


She climbs the crystalline
platform into a
Nature Temple
wherever her good name
is manifested.

All the hype about
a life so revered.

whose life is it
but the One
as me the only One Here for the All.

this is my continuous
promise
of That.