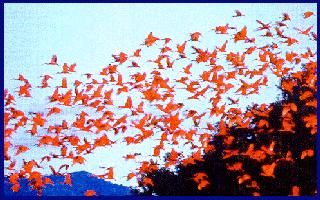 JEWELS OF NATURE
"Jewels of the forest," is how Wolfgang described the unparalleled collection of radiance in flight. Purple honey creeper, green honey creeper, tufted coquette hummingbird, copper-rumped hummingbird, blue-crowned motmot, bearded bellbird, blue gray tanager, silver beaked tanager, boat-billed flycatcher, golden-headed mannequin, black-tailed tityra: Although I'm not a keeper of scorecards, in a few hours of exploring trails, perching on the verandah and with the help of Sheldon, one of Asa Wright's professional rangers/guides. I observed more bird species than in all of the previous year— including a trip to Costa Rica.

We had heard fantastic stories about Caroni Bird Sanctuary, a mangrove swamp oasis surrounded by nondescript grass marshes near the airport. The evening fly-in of the national bird, the scarlet ibis, so great in number, we were told, that as the blood-red chicken-sized waterfowl took roost in mangroves, the green forest slowly turned red.
...

... Then we saw it - our first scarlet ibis, shimmering red in an emerald tangle. "Red" doesn't do this supernatural beast justice, the color so intense that you'd swear It's generated by some mysterious internal electronic mechanism.

[ Environment | 2003-03-31 01:39 | | PermaLink ] More >