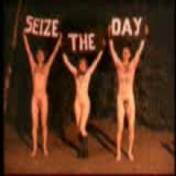 2003-03-31 00:13, by Julie Solheim-Roe

I wrote about this band,from my Glastonbury home, being up for BBC Radio 3's 'Audience Award' in January. I am SOO proud of their latest Nude Stance:
Press Release 25th March 2003

BBC RADIO 3 WORLD MUSIC AWARDS
Banned Members In Naked Protest

A Somerset band who were denied a prestigious Radio 3 World Music Award because of their anti-war views, stormed the stage to launch a naked protest at The Ocean in London last night.

Two members and one supporter of the radical British folk-band Seize The Day, stripped off and climbed onto the stage as applause for the final act of the night ended. Their bodies were hidden at first with signs reading "BBC Cover-Up", before they went "the full Monty", to excited cheers from the 1000 strong audience. The slogan "Peace Not War" was written across their chests.


Seize The Day polled the most on-line votes in the Radio 3 "Audience Awards" category, but were disqualified without warning after Radio 3 Executives realised they might express their anti-war believes in song at the ceremony.

Singer Theo Simon, who was one of the three naked protesters, said "When I arrived at the Ocean Venue I was ordered at the door to remove my anti-war badge, which said "Not In My Name". This confirmed our view that Radio 3 were trying to silence public opposition to the war in Iraq."

The band hastily improvised their protest, and waited until the Senegalese band Orchestra Baobab had finished their encore, before springing their surprise revenge on the unsuspecting organisers. Earlier they watched as Slovenian band Terra Folk received the Audience Award.

Band member Rich Whistance said, "We didn't want to rob Terra Folk of their moment of glory - which they deserved as much as anyone - but we did want to publicly show the Radio 3 organisers up for their cowardice and dishonesty."

Seize The Day are no strangers to taking direct action against
corporations - one of their earliest actions was a naked roof-top protest against "The Genetix Cover-Up" by Monsanto in 1997, and band members have previously been arrested for obstructing road-builders and pulling up GM crops.

However this is the first time they have protested on their own behalf.

"We just felt that a real injustice had been done to the band and the thousands who voted for us," said singer Shannon. "If BBC Radio 3 want to promote World Music, they shouldn't be afraid of songs which express the growing global movement for world peace and justice."

Contact "Seize The Day":
Theo or Shannon - 01749 860767 mob. 0778844 6109
More info/pics: seizetheday.org
Email: seizetheday@thismoment.freeserve.co.uk

Read more here.