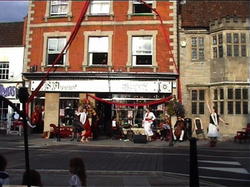 2008-03-21 19:52, by Julie Solheim-Roe

Prince wrote this song of songs for Matika. There is supposed to be an amazing story behind it. Tamar used the lyrics for it as the finale' song in the Rooftop Serenade event we put on in the summer of love 2005 on the rooftop of S'Amuser and on the street, literally stopping traffic!

"No longer can I resist (no..) the guiding light (guiding light)
The light that gives me the power to keep up the fight
I couldn't be more satisfied (no…)
Even when there's no peace outside my window
There's peace inside
And that's why I can not longer run
Love thy will be done..."

And this is the continued Quest.
And this is the eternal Promise.

Love Thy Will be DONE.

To choose this, to know, gno, this - aint that what it's all about?

In order to do that, there must be a continued Point of Choice, that we move eternally back forth towards,
and reset IN... for that is our making.