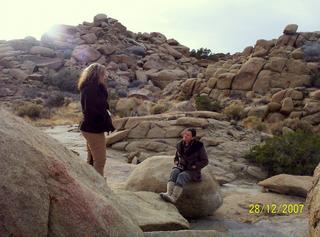 2008-02-17 22:34, by Julie Solheim-Roe

you came to me again from a new possibility - the sacred hi desert mohave land - and when i walked on your soil and drove in a sacred spiral - laying lay lines throughout the southland in that ethereal space time between christmas and new years... lax to brentwood heights - to palm springs arts festival - to letecia's family gathering - to amara and thomas' return to sell their sacred wares - to their home in yucca valley - 3 nights visioning with priestesses / sisters/ keepers of the eternal visions, letecia and amara, and then the time on amara's untouched land with the earth crust unbroken, the Vision came, the mind map revealed for 2008: a return to the city of angels immediately for me, and a new home life for chantal and i .... then sunday 30th december we drove via glendale - to ojai - and had sacred spring renewal, celestine prophecy awake dreaming... new years with jay and cynthia meeting the hilarious dog archetype / oracle game... and then new years day dinner with jennifer in la and drive to la jolla .... meeting on the beach 2nd jan with he project 8 production team.... slept 2nd back in brentwood then 3rd in santa barbara with allen the golden hearted new keystone for my perfume business remergence in la.... and then back to ojai to collect tecia and land on the 3rd at marigrace's new home old sacred space centre... to an incredible climax with marigrace and letecia on friday the 4th.... spent the whole day 5th jan at lax writing new names for s'amuser... the eternal muse..... i am grateful for the huge VISION this trip gave me, the mind map i have on my wall here in glastonbury and the KNOWING that this is all UNFOLDING now, and that the new life in the city of angels will be fulfilled immediately. i am grateful for he knowing that if i put forth the dream, the plan and feel the worth of this in my cells, that doors will open and it will be realized in flow ease and total abundance for ALL. om shanti om.

i am grateful for the Vision - for the Sisters - for the Support - and for always and forever the Love...