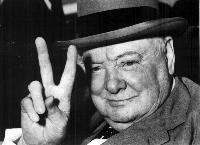 2003-03-27 07:14, by Julie Solheim-Roe
Never, never, never believe any war will be smooth and easy, or that anyone who embarks on the strange voyage can measure the tides and hurricanes he will encounter. The statesman who yields to war fever must realize that once the signal is given, he is no longer the master of policy but the slave of unforeseeable and uncontrollable events.
------Sir Winston Churchill (1874-1965)


I like to believe that people in the long run are going to do more to promote peace than our governments. Indeed, I think that people want peace so much that one of these days governments had better get out of the way and let them have it.
------Dwight D. Eisenhower (1890-1969)