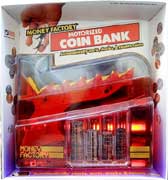 2003-04-01 11:06, by Julie Solheim-Roe

By Jeannine Aversa
Associated Press
Thursday, March 20, 2003

Full article here.
WASHINGTON (AP) -- The government ran up a deficit of $193.9 billion in the first five months of the 2003 budget year, nearly three times the deficit for the same period a year earlier.

In February alone, the deficit was $96.3 billion, the largest on record.

The latest figures, released Thursday by the Treasury Department, highlighted the government's deteriorating fiscal situation. Record deficits are forecast this year and next.

The total so far this fiscal year, from October through February, compares with $67.7 billion a year earlier....

On the Net: Treasury Department

I am sure this is part of the reason why even Republican Senators cut Bush's tax cut in half because of his first downpayment for slaughter....