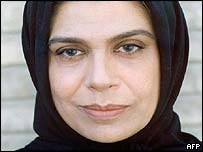 2003-04-23 23:59, by Julie Solheim-Roe

Perhaps here are more lesser-humans that we need to 'free'... Iranian actress escapes lashing
An Iranian actress is handed a suspended sentence of 74 lashes for publicly kissing a male director.

Yet I am not sure what to make of this. On one hand it shows the misogyny that continues in the warped form of Islam of Iran... whilst at the same time the 'suspension' may perhaps show a modernation that could be coming of it's own accord. Read = without any US or USSofArrogance!